VPN Monitor IKEv2
DISCONTINUED
VPN Monitor IKEv2 is a status bar application to immediately reconnect a dropped IKEv2 VPN connection.  The flexible 'Always On' VPN solution for macOS.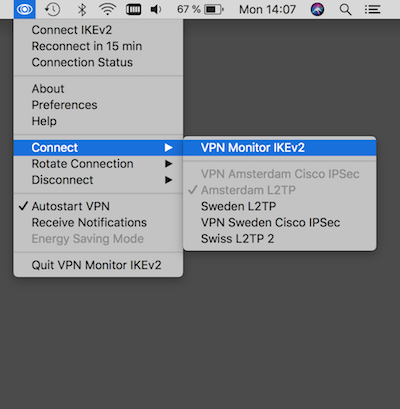 Key Features
Ability to use 'fallback' L2TP/IPSec VPN services should the IKEv2 server become unresponsive
Safe network option (standby on whitelisted networks)
Temporary disconnect
Auto connect at App startup
HUD panel with status information
Desktop notifications
Heartbeat
Note: VPN Monitor IKEv2 will not block outgoing traffic while the VPN connection is down.
►►► Important
VPN Monitor IKEv2 does not include a VPN subscription. You need to know the IKEv2 configuration details from your provider or have a .mobileconfig file available to configure the connection in VPN Monitor.
►►► Operation
The App gets notified of changes in macOS network connection status and immediately takes the required actions. Its efficient connect, reconnect and fallback approach ensures carefree operation. There is no CPU intensive 'status polling' involved (as in AppleScripts or other Apps).
►►► Is my IKEv2 account data secure?
It is not possible for an App to start or stop an IKEv2 service it does not 'own', hence it is required to enter the IKEv2 account information in VPN Monitor. This information is safely stored in a VPN Profile under 'System Preferences > Network' and passwords in the macOS KeyChain. VPN Monitor is a trusted and notarized App, your IKEv2 account data is safe.
►►► What's the difference with VPN Monitor?
VPN Monitor was released in 2014 and supports macOS 10.9 and upwards. The App will remain available to provide support for older systems, but is unable to reconnect IKEv2 VPN services. VPN Monitor IKEv2 supports macOS 10.11 and upwards and is able to reconnect IKEv2, L2TP and IPSec VPN Services.
►►► Why is VPN Monitor IKEv2 no longer available in the Apple App Store?
The App Store only allows IKEv2 Apps written by software companies.
REVIEWS
Precisely what macOS has needed since the introduction of native IKEv2 VPN support!
Flyingsnowball
Keeps me connected all the time and reconnects quickly if I get dropped from my office VPN. Great tool that's worth the small price to avoid frustrations and wasted time.
TomKz