Photo Pixel Filter
Improve, Fix & Enhance Photo's with Filters
Set your creativity free!
Improve your photos and create personal and unique photo filters.
Over 150+ different adjustments, combine them as you like to give your photos a very unique and personal touch.
Save your result as a workflow (preset), so the next time you need it, you can recreate the same effect with a single click.
With no learning curve, and only a few sliders and drop down boxes you'll be up and running in no time!
Photo Pixel Filter is available as an Extension for macOS Photos enabling you to edit your favourite photos right inside the macOS Photos App!
An overview of all the color things you can adjust:
Adjust Red, Green and Blue Mid-tones
Adjust the 5-point Tone Curve R,G,B & RGB
Adjust Gamma & Hue
Apply a Color Blend or Color Monochrome
Apply Sepia, Whitepoint or convert to a Binary Color
Apply a Color Fill, Haze removal or Solarize effect
Adjust Saturation, Temperature and Vibrance
Sharpen by Luminance adjustment
Adjust Brightness, Contrast, Highlights, Exposure and Shadows
Change Saturation without affecting luminosity
Change Luminance without affecting color
Auto Adjust, Red Eye removal
Apply a Contrast Stretch or Equalize the histogram
Change to Greyscale, Mono Noir or Tonal
Fade or Invert all colors, apply a Chromatic Abbreviation filter
Apply a Chrome, Instant, Process or Transfer effect
Apply over 40 different LUTs and add your own
Apply a Histogram Specification from one photo to another
An overview of all the pixel things you can apply:
Flip, Rotate, Straighten
Crop, Aspect Crop (only in the standalone version)
Horizontal & Vertical Keystone correction
High quality Resize (up and down)
Artifacts reduction filter
Adjustable Bokeh effect
Apply a Blur, Bloom or Gloom effect
Impressive Noise Reduction filter
Sharpen and Smooth Skin effect
Apply an Aquarel, Comic, Painting, Posterize, or Scratch effect
Apply a Contrast Sketch, Pencil Sketch or standard Sketch effect
Apply a Distortion, Texture or Emboss effect
Cross Hatch, Crystallize, Pointillize or Pixellate or Polkadot your photo
Find Edges or apply an Edgework effect
Add a Halo effect, Morphology or Square crop
Apply a Circular focus or Vignette effect
Apply over 25 different Photo Composite Effects
Some ideas to get started:
Check the photo Inspector panel to see which filters have been applied
A Bokeh effect before applying a painting / sketch filter gives great results
Play with Saturation and Luminosity to pop or fade out colors
Apply a Monochrome Color or LUT to give the photo a totally different feel
Emboss, or use a textured distortion on your sketch / painting for a realistic effect
Use the Gamma correction to change brightness and bring out colors or shadows
and so much more …. !
Short tutorials:
Batch Processing (stand alone version only):
Use the batch processing functionality (⌘B) to apply your custom designed workflow to an entire photoshoot. Any workflow you create can be used in batch processing, resize, watermark, color grading, everything is possible.
Privacy:
This App is completely private, all the processing takes places on your computer, nothing is uploaded, no signup or account is needed.
Please leave a review in the Appstore with comments for improvements or feature requests, or just a rating.
Stand Alone App or macOS Photos Extension?
The macOS Photos Extension provides an easy way to edit your photos with macOS photos! Just select a photo and click "Edit", followed by clicking on the circular action / extensions button to start Photo Pixel Filter. A very convenient method and probably the most efficient for most users.
For more advanced users, the stand alone version offers a few extra's such as batch processing and the ability to save the photo in a different file format (HEIC for example). However this version does require to copy photo's to a separate directory for editing or drag and drop them onto the App.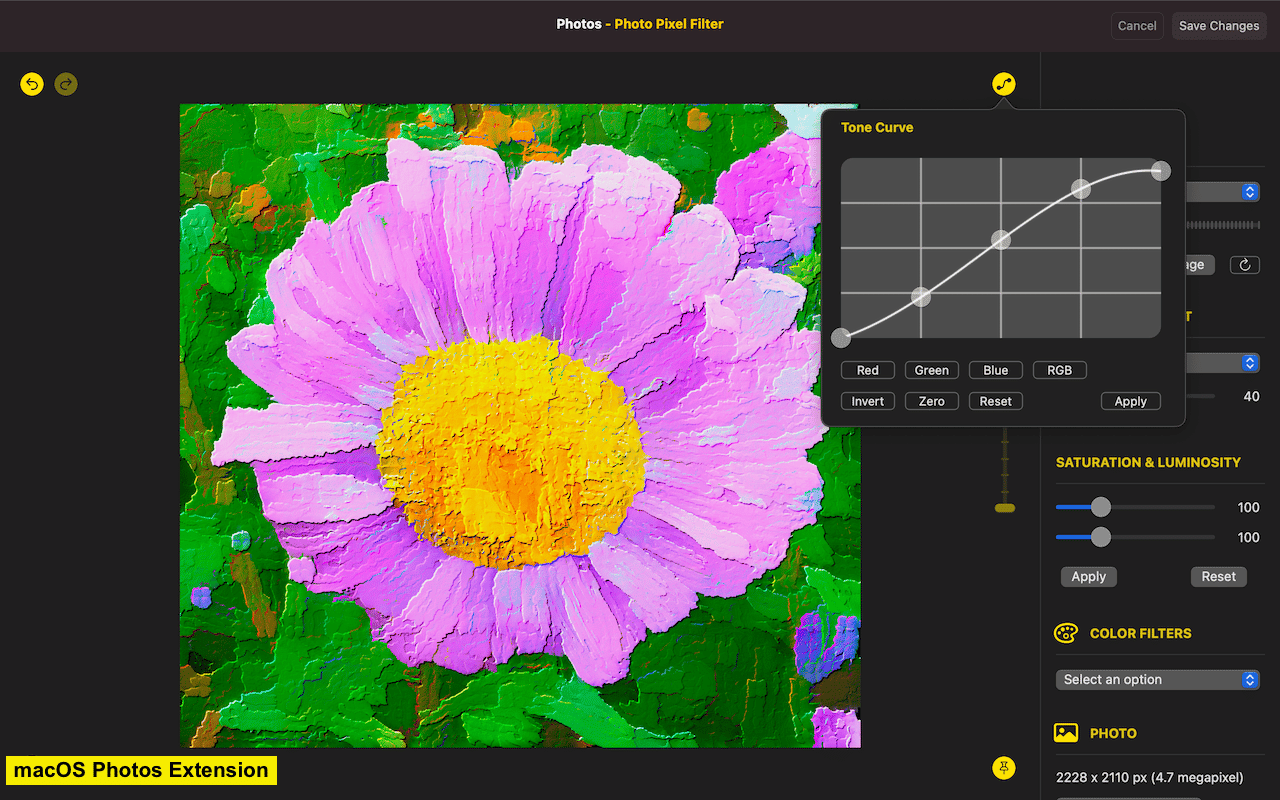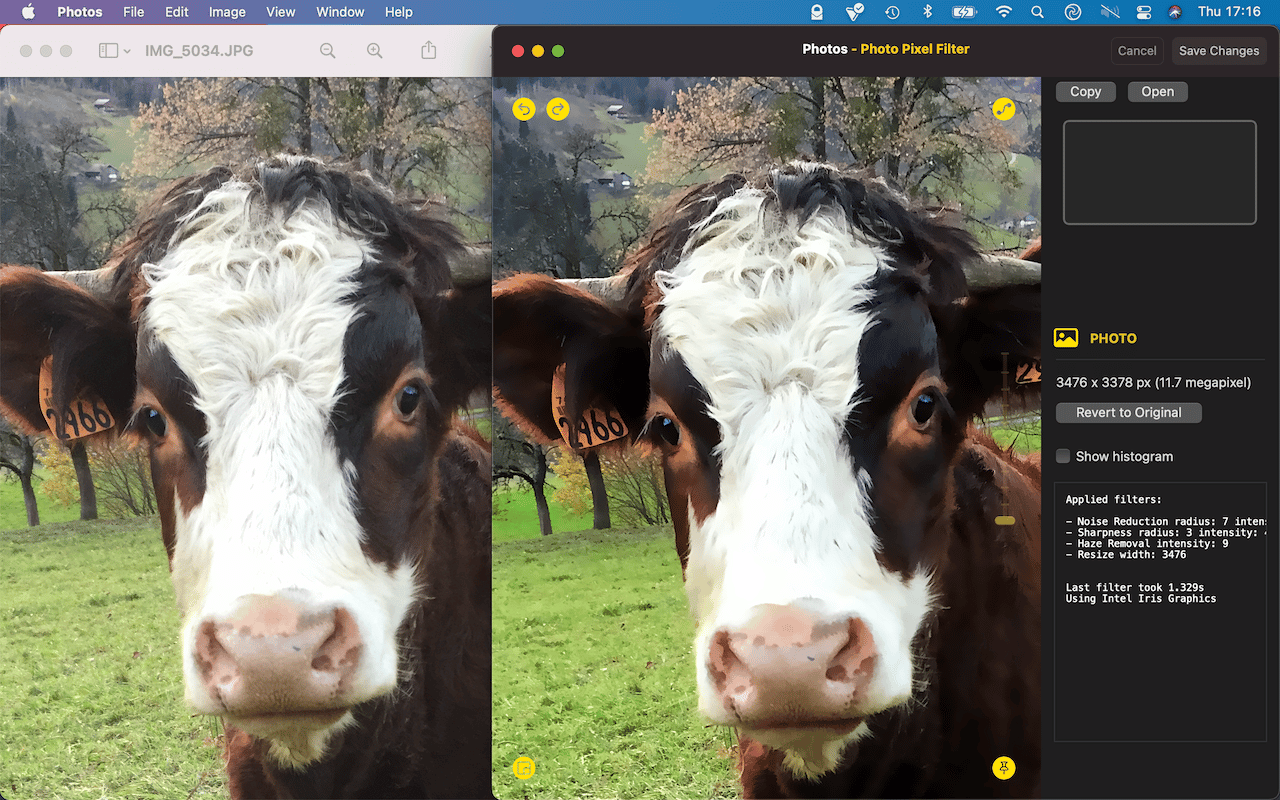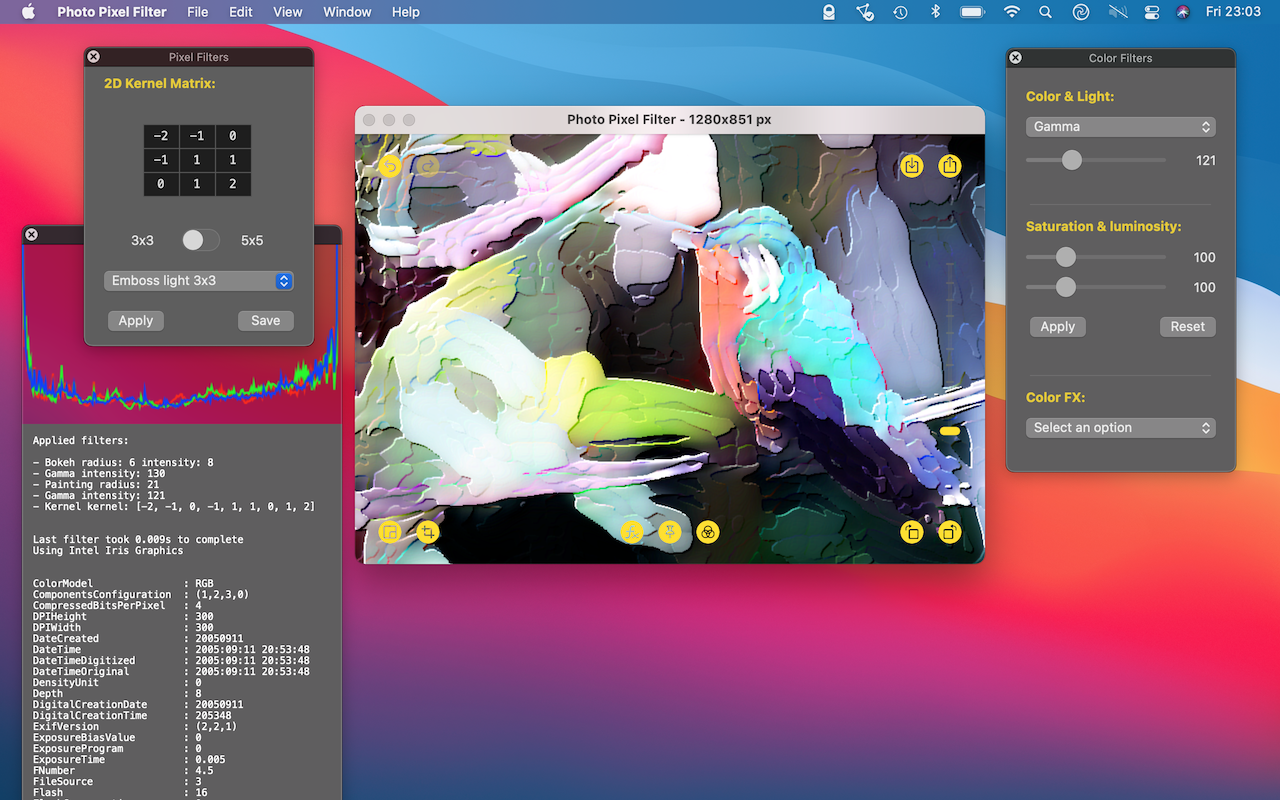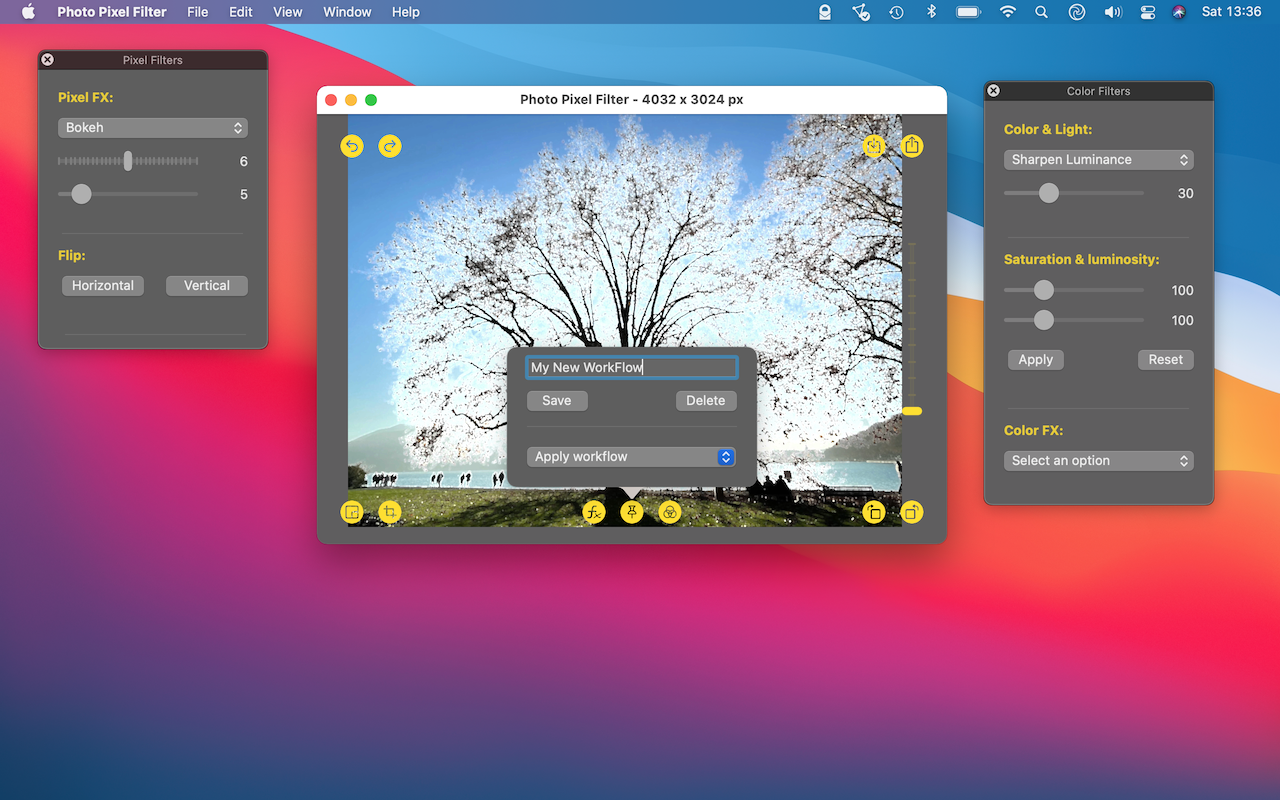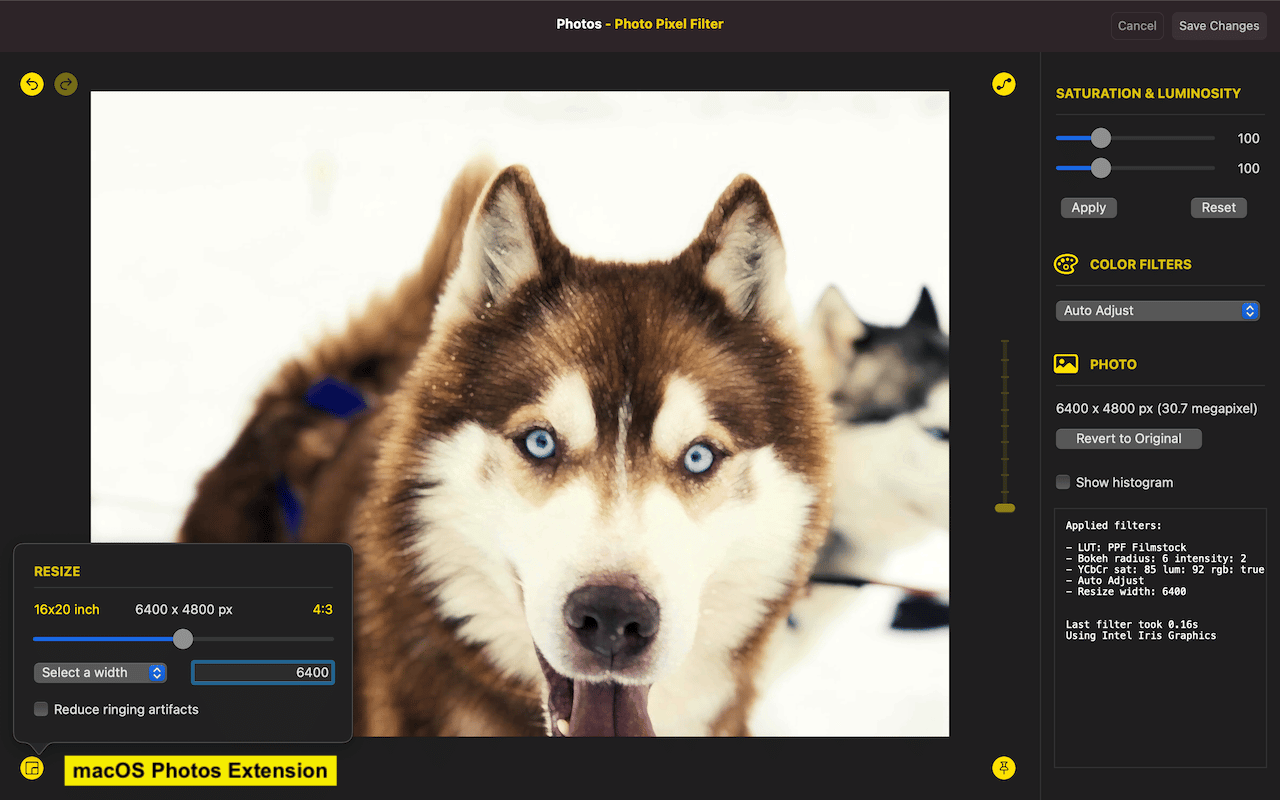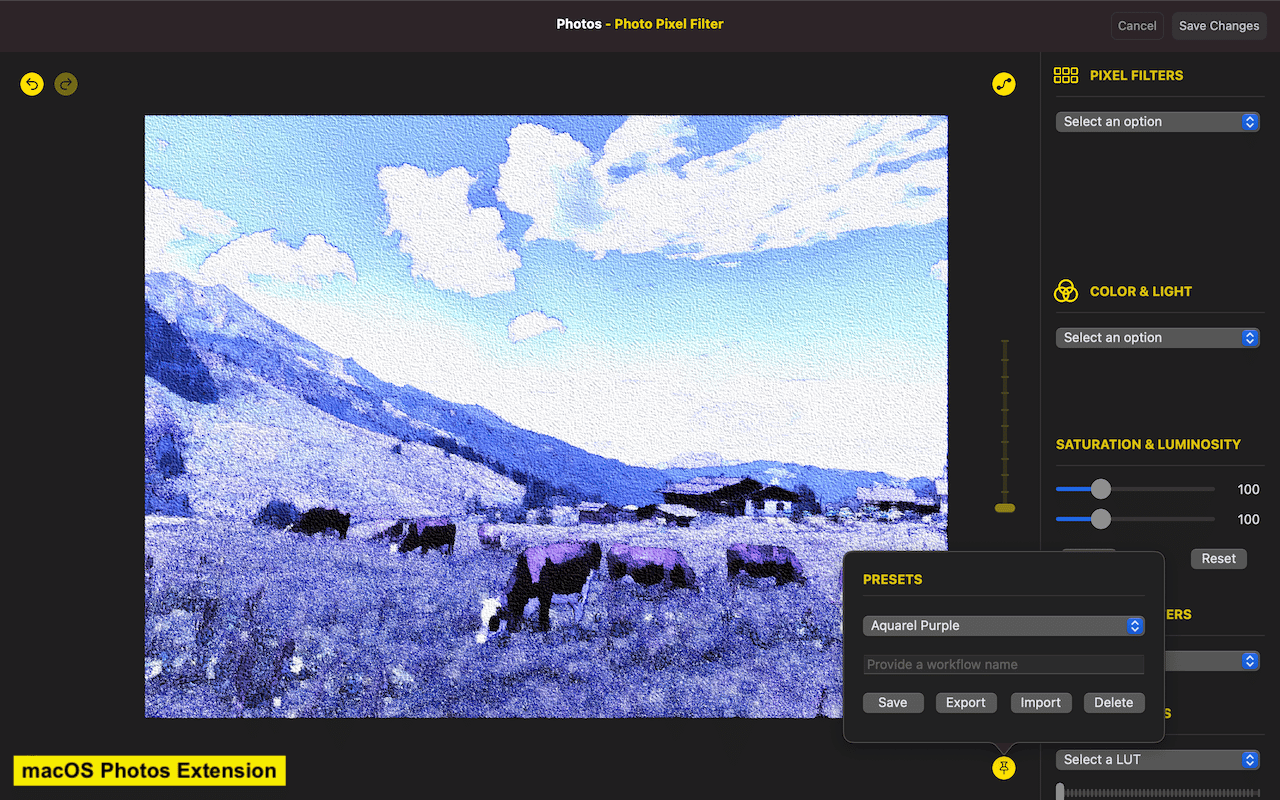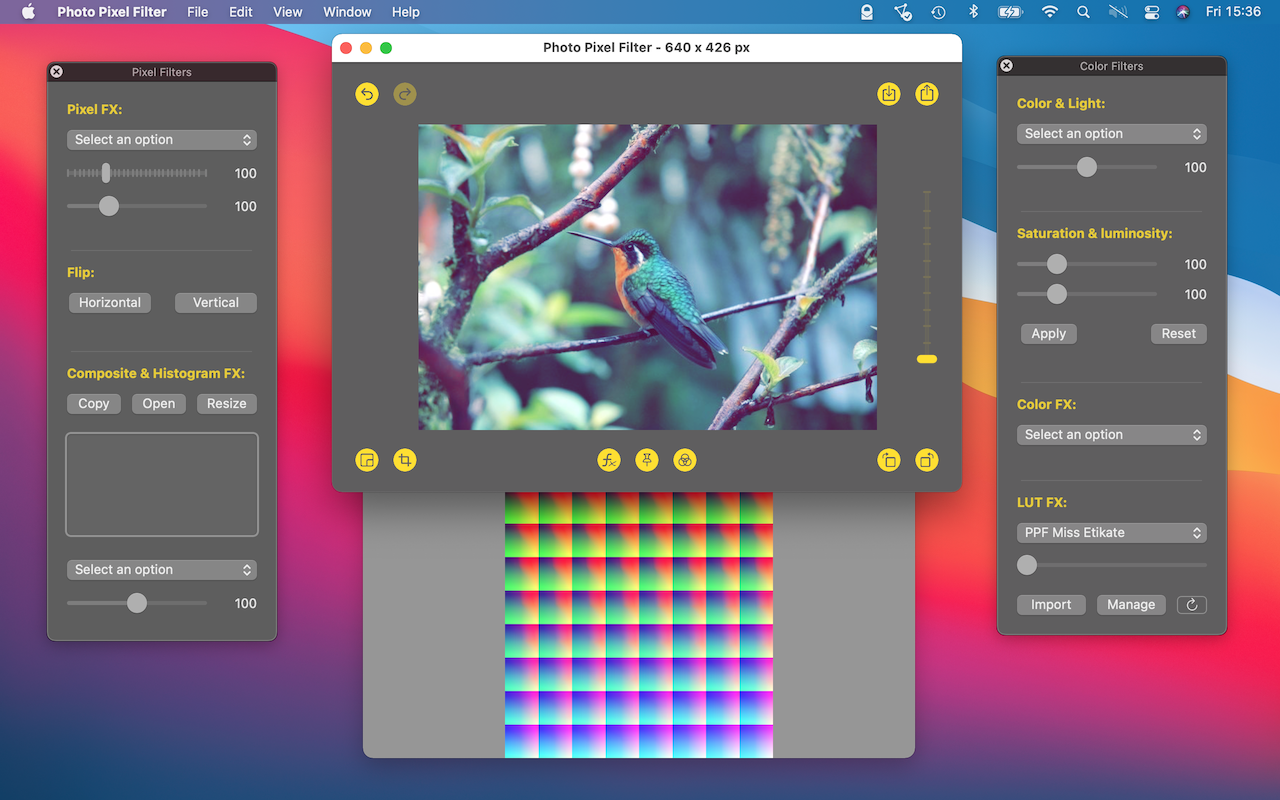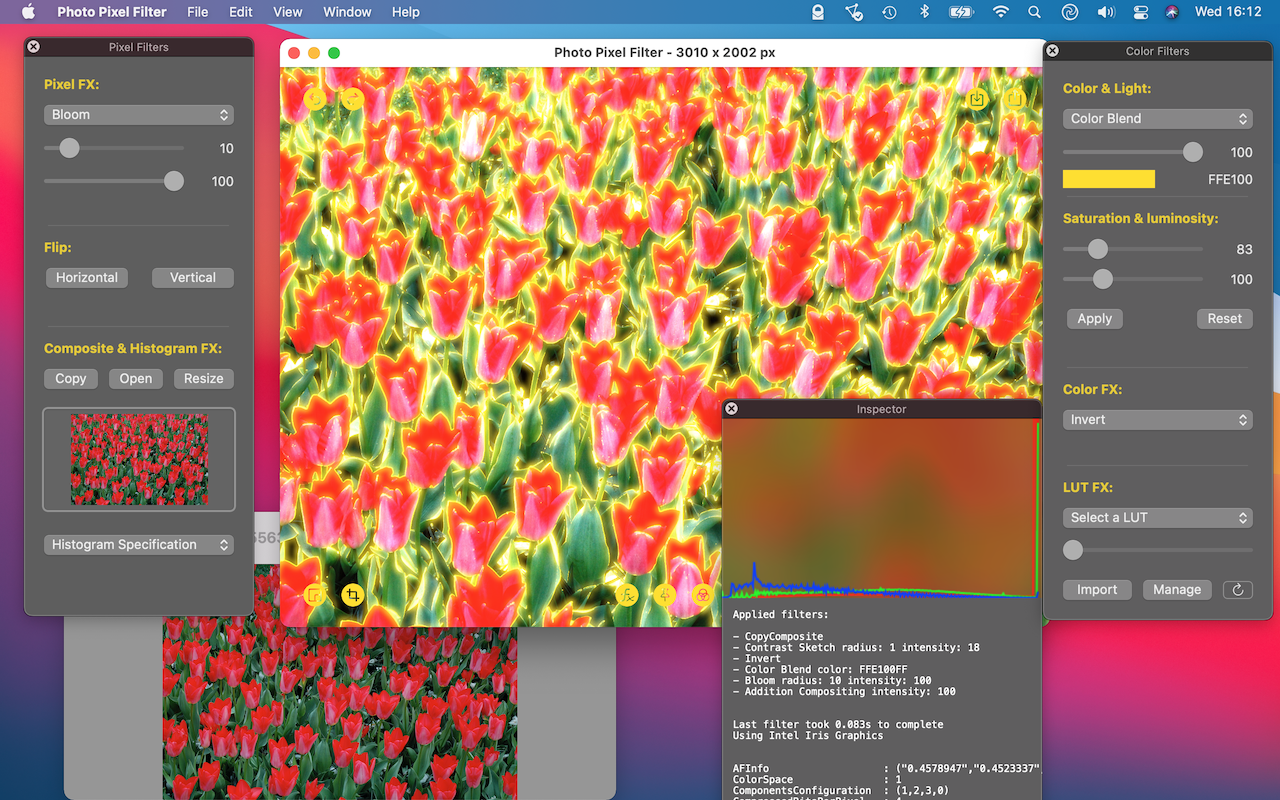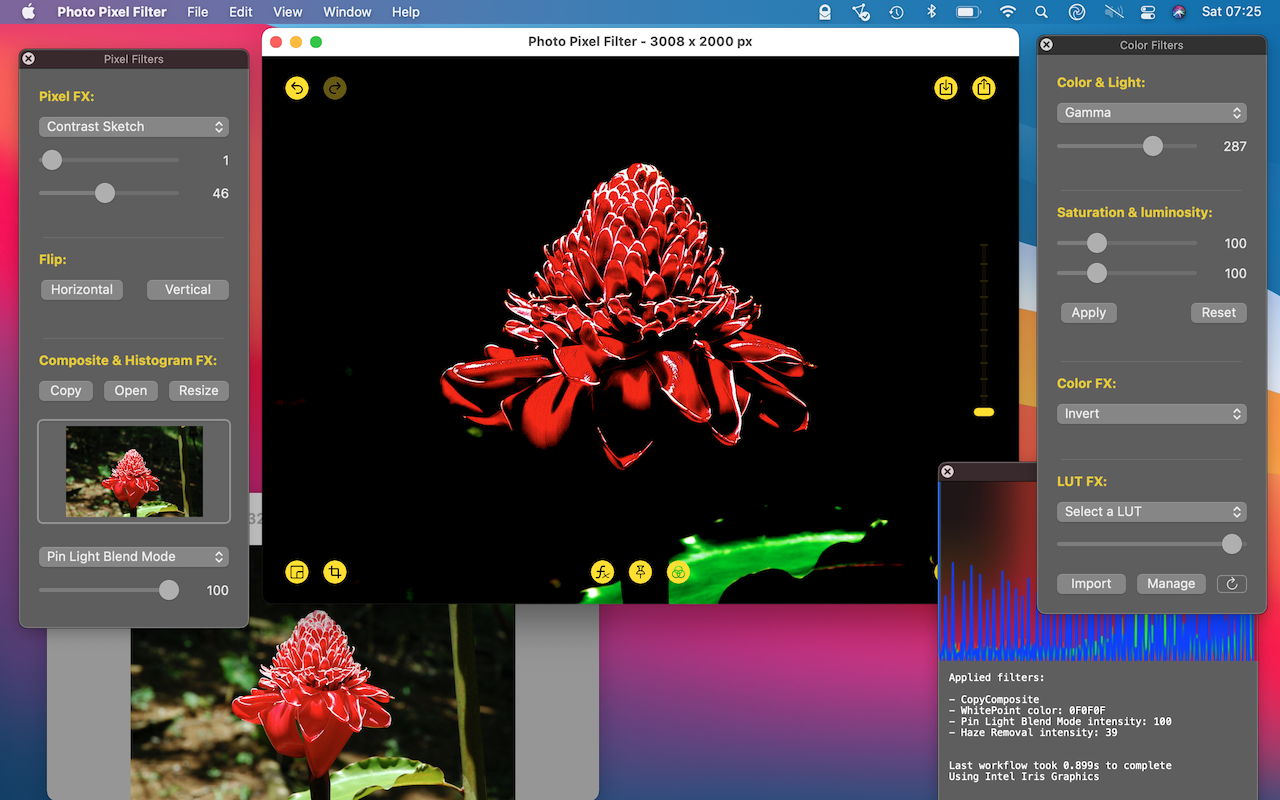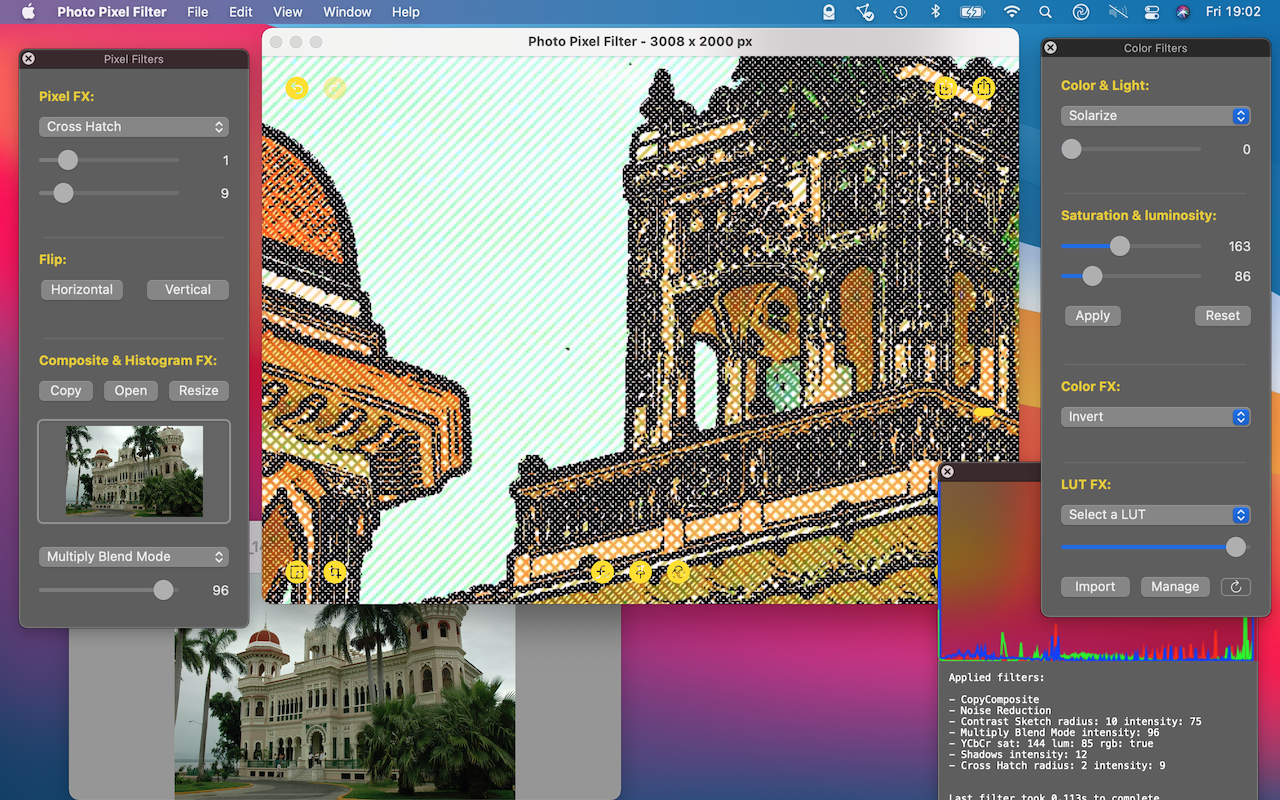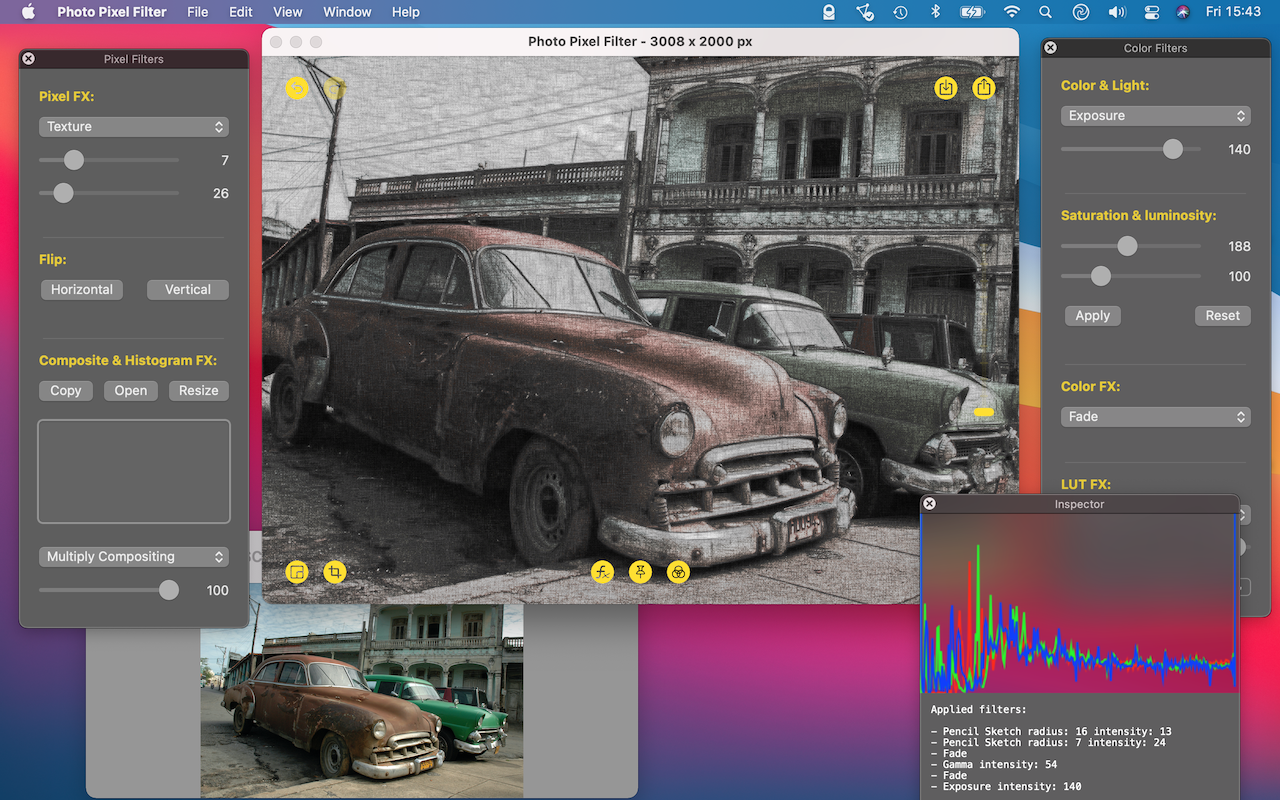 Stand Alone App
macOS Photos Extension