TruHue
Control your Philips Hue system with macOS
What does TruHue Do:
Switch rooms, lights and schedules on/off
Change brightness, scene, color or color temperature
Select multiple rooms, lights and schedules at the same time
Apply scenes, colors or color temperature across multiple rooms
Quickly switch between Hue Bridges
Instantly know how many and which lights are on/off in your house
Provides an estimate of the total Hue system power consumption
What makes TruHue Different:
macOS native user interface, no learning curve
Responsive, click the statusbar icon for an immediate update
Control multiple rooms/lights at the same time to the same setting
No CPU/energy consumption when not in use
TruHue is safe and will not change your bridge configuration
TruHue provides a power consumption estimate of the Hue system (configurable)
What does TruHue Not Do?
You cannot configure the Hue Bridge or Hue Accessories
You cannot connect remotely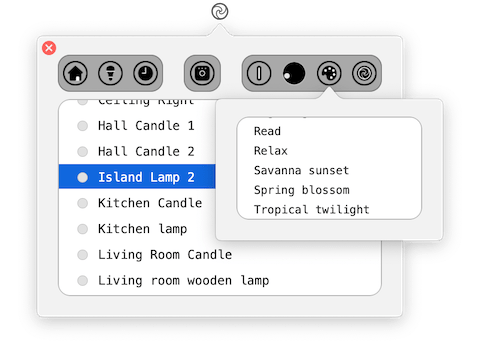 Key benefits:
Select multiple rooms/lights by using Command (⌘) – click, or double click to select everything in the same 'state' (on or off). Easily change multiple rooms/lights to the exact same scene, brightness, color or color temperature*.
►►► Effortless control of your Philips Hue system.
* The room/light needs to support the selected scene, color or temperature
TruHue is completely ad free, in-app purchase free, subscription free, private, safe (also for your bridge) and requires no sign-up.