Movies And Maps
Play dash-cam movies and plot the route and position on a map
Play a dash-cam movie and view the corresponding GPS or GPX route and position on a map. Available for FREE from the Apple Appstore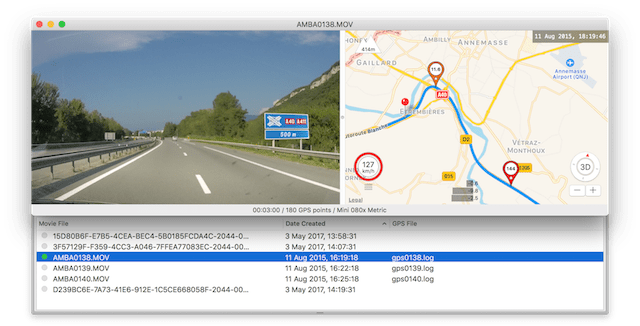 Key Features
Drag & drop
Take a snapshot
Trim & export
Fast forward and reverse (x60)
Easily skip through a list with movies
Supports movies with embedded metadata (Apple ISO6709 only)
Configure your own NMEA import filter
Note: Movies And Maps works with dash-cams that save a movie with a separate GPS or GPX log file (or embed ISO6709 data in the MP4 movie).
►►► Requirements
A movie format which is supported and playable by macOS (MP4/MOV)
GPS log files in NMEA or GPX format / movies with embedded ISO6709 GPS metadata
GPS log files in the BMW Drive Recorder JSON format
►►► Operation
Movies And Maps works with GPX or NMEA GPS log files. NMEA is a simple ASCII based comma separated (CSV) file format, which is used to log GPS and other relevant data to file. GPX is a widely-used XML file format used to store and share GPS data. This data is used by Movies And Maps to plot the route and the current position on the map. Additional information such as time and date, altitude, speed and when available accelerometer data is also shown on the map.
REVIEWS
This works really well. You load up the MP4 file from your dashcam and the corresponding NMEA file and it gives you live replay of the journey on Apple Maps. Well worth the money. There was nothing else I could find to do it.
jlukef